I have a multi-disciplinary practice combining my artistic practice, self-development and teaching. I work between visual and live arts,
ART PRACTICE -My work is sometimes serious sometimes playful, but always about prompting and nudging other people to look at the world around them in a different way.
I collaborate with local communities, initiating conversations and facilitating creative actions that encourage; participation, a sense of community, personal and collective reflection, transition and actions, projects often connecting to aspects of wellbeing.
GROUP WORK -I continue to build on over 30 years' experience of working in formal and informal learning as a lead artist, qualified teacher, trainer, facilitator and coach, spanning early years, young people and adults.
My desire is to support individuals to achieve their potential by drawing on my varied experience of different pedagogies and creative practice, focusing on a 'person centred' approach, encouraging curiosity and a 'can do', 'will do'. I have such a wealth of experience that pulls together many threads around social justice, self-development and creativity – the world needs this right now. I'm always happy to talk!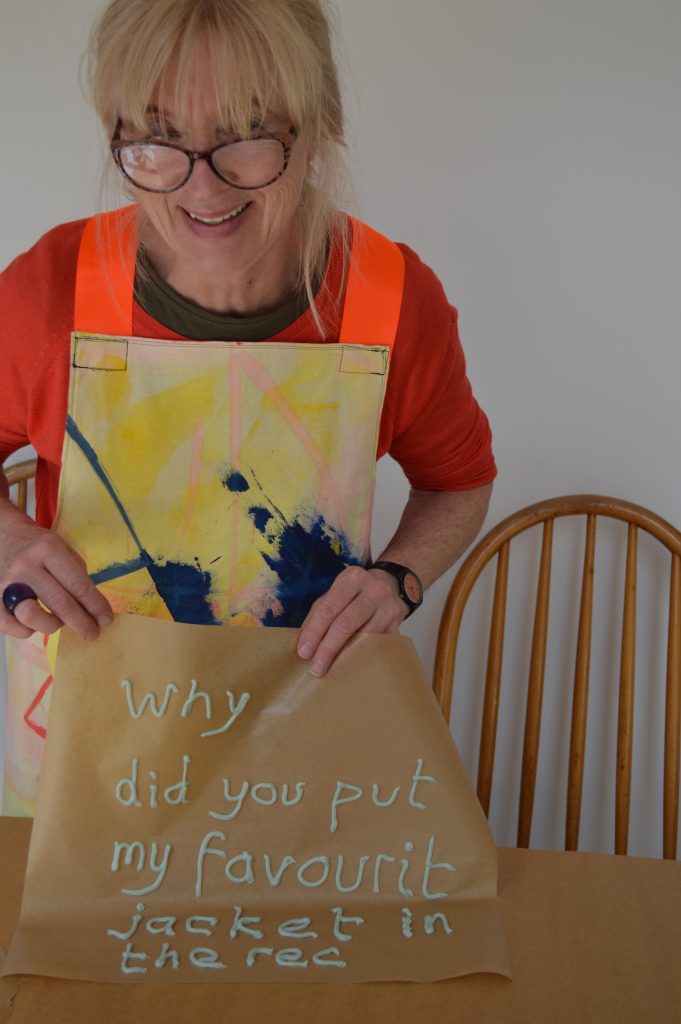 Work in Collection
Stephens & Scown Solicitors, Exeter.
Prestige Properties, Sherborne.
Goody, Clancy & Associates, Boston, USA.
Field Fisher Waterhouse LLP.
Other private collections in the UK, France, Canada, Tokyo, Vietnam, Sweden.
Qualifications include
B.A Fine Art (Painting) Winchester School of Art
City & Guilds FAETC
R.S.A. Diploma Theatre Studies
Certificate in Counselling Skills (Bristol University)
PGCE Secondary Art (University of Exeter)
Relational Dynamic Ist accredited Coach
Career history includes
Alongside my ongoing art practise
Trainer & Facilitator – With a commercial training organisation, leading 1, 2 and 3-day courses for professionals and small business in; Communication skills, Assertiveness Training, Negotiating Skills, Self-Presentation Skills, Basic Counselling Skills.
Tutor & Facilitator for Adult Education – running courses in Assertiveness Training, Effective Parenting,(The Parent Network) Women Returners, Residential courses in Confidence building for short term unemployed, Life skills for disadvantaged and disaffected young people on work experience, Outreach work, working with vulnerable people in sheltered accommodation. Occupational Art for users of day centres.
Counsellor – Within a GP setting and private referrals, relationship/health issues.
Art Teacher – Secondary & primary schools.
Tutor & Facilitator– In a prison setting. Group work for; Addressing offending behaviour issues, Motivational Skills, Accredited Art courses.